Was asked by a few people to share gardening tips, so in these days of Coronavirus, will share what I know. Full disclosure – I am not an expert gardener. What I am sharing here is what I have learned through my research online, talking to local amateur gardeners, and simple trial and error.
The Basics
All composting needs are the following: a compost pit or bin, vegetarian food waste (vegetable and fruit peels, healthy discarded plant parts, cooked food that went bad), dry leaves or shredded paper. You can put seeds in compost but you may get unexpected plants later when you add finished compost to your garden bed 🙂 – so be ready for that!
I use a bin like this: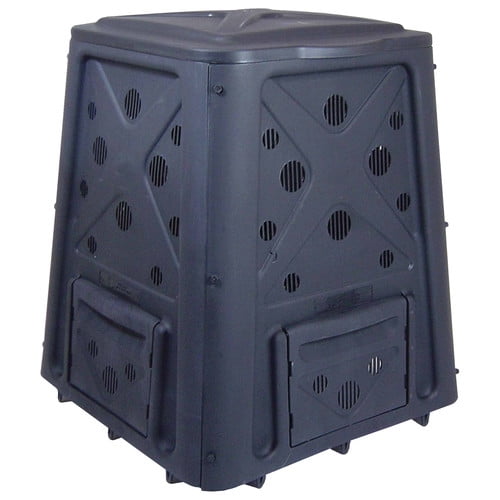 This is Redmon Brand Green Composter in Black. The capacity is about 65 gallons, it is very lightweight, and easy to assemble. The bin has a lid on top, and four trapdoors at the bottom from which you can harvest the finished compost. This is in one corner of my yard, and there are little bumps at the bottom which you initially press into the ground for stability. Basically, I dug up some grass, watered the area to soften up the soil and sort of leaned onto the top of the bin to push it into the ground.
The kind of composting I am doing is aerobic composting, where microbes work to break down food waste into rich organic material that you can use as a soil amendment. The holes in the bin let in air. At the start I filled this bin about a 1/4 – 1/3rd of the way with dry leaves. You can also use shredded paper or newspaper, just omit the glossy pages which may have toxic inks.
Composting needs Carbon and Nitrogen. "Carbon" would be your dried leaves or paper. The "Nitrogen" is your food waste – vegetable peels, coffee grounds, tea bags, vegetarian leftovers that have gone stale etc. Sometimes – not too often – you can add crushed eggshells. No dairy (sparingly is ok), or eggs or meat. For obvious reasons – the smell, plus you don't want to attract raccoons and other creatures to your bin.
Once you have the bottom 1/3rd layer of leaves, hose it down with water to make it moist but not dripping wet. Like a wrung out sponge. Then add in your food waste in a layer. I typically collect about 1 – 1.5 Kg of food waste and spread it uniformly or nearly uniformly (you don't have to be precise). Then I cover this up with a layer of dry leaves. The dry leaves do three things – add the carbon component, let oxygen come in from the top, and prevent smells which can attract critters. You can also throw in a few handfuls of topsoil or some finished compost to get the microbes going.
Next time I have 1 – 1.5 kg of food waste, I repeat the process. First, add water to wet the existing top layer of leaves (consistency like a wrung out sponge, not too moist), layer in my food waste, and then finish with the top layer of dry leaves or shredded paper.
Once a week, I stir the compost well before adding a new layer. Reason being, the bottom layers start to compress and start to lose air pockets. Microbes need air to work, so you want to stir in air. You can thoroughly stir the compost with a pitchfork. I use a compost turner that looks like a long stick with retractable wings. This YouTube video explains how to use it:
That is it.
Few tips/troubleshooting:
Compost is too dry or too cold: Carbon/Nitrogen balance is important. If it is too much dry matter, bugs and microbes don't have much to feed on. Aerobic composting produces heat, and when you touch stirred up unfinished compost, it should be warm – temperature of lukewarm water or higher. This warmth shows that bugs and microbes have enough food (Nitrogen) to make compost and the bin is working. If you find your compost cold, add more Nitrogen – your food scraps.
Compost too wet or smelly: indicates too much Nitrogen. Mix in more dry leaves and don't add too much water. That should cut down the smell and bring more air pockets. Too moist compost tends to cut out oxygen and the anaerobic bacteria take over, causing bad smells.
Compost has many bugs and some….worms?: This is normal. Initially if you start in warmer weather, you may find gray fat worms. These are soldier fly larvae and are very good for composting. Means you are doing things right. As you progress, an entire food chain builds up – ear wigs, roly polys, earthworms (bottom layer), then carnivorous arthropods like spiders, a roach or two (these hate wetness so if you want to prevent too many then add water and leave for a while; once they leave, let it dry out). Eventually you will find higher predators like lizards – that slide into the bin to catch your bugs, and at the bottom you may find a small toad or two. You don't observe until you try to collect some compost and a small toad jumps. Quite funny! Wear gloves if you are finicky when extracting compost. But the food chain that builds up takes care of excess bugs. And bugs help in composting by digesting some of the matter.
When is compost "done"?: Typically takes 3 months at the start. Finished compost should be blackish in color, smell like fresh earth and cold to the touch. Depending on your Carbon/Nitrogen balance and the weather, it may take longer. If you start composting in winter, wait 5-6 months. Don't worry, the bin won't fill up that fast unless you have a huge family. Once the first batch of compost is extracted, then you can keep extracting from time to time.
When and how to add compost to soil: I add when I start planting. Basically, mix in compost with my top layer of soil, then plant my seeds or seedlings, and water. Then every couple of weeks or so – I'm very irregular about this – I add more compost. Compost helps add organic matter and also helps retain water. So don't add too much because plant roots need air.
There are other ways to compost – some people use old trash cans, drill holes at the bottom etc. Some dig a pit and do this. Some use a porous bag to compost. You can look up those if you are interested. Here I shared my method.
Benefits of composting:
Friendly to the Earth by reducing landfill requirement, and improving air quality by decreasing production of Methane, that comes as a byproduct of bio-wastes going into landfills. I am a vegetarian, and composting alone has reduced my trash by a whopping 80%! Used to put out trash once a week, now I may put it out once a month, maybe 5 weeks and the trash bin is not even half full. Compostable wastes when they go to the landfill are packed with other materials and compacted. They don't degrade properly and this ends up producing more methane, polluting the air. If more people composted, we can alleviate this problem
Free soil amendment – you basically recycle waste and improve soil, at a small initial cost.
Happy plants and better soil quality. Where I grow, the soil is heavy clay. Not a friendly medium. Amendments like compost improve soil quality by improving texture, helping earthworms thrive, and adding beneficial microbes that make nutrients more available to plants. Compost also improves water retention.
Ahimsa to balance the himsa involved in gardening – every gardening act, be it digging soil, planting flowers/veggies/shrubs, killing slugs and snails even if organically, hosing down aphids – involves violence. Inadvertent violence sometimes, sometimes necessary violence. Your compost bin kind of balances it out by giving a safe space to bugs and such, and their predators like lizards. It is interesting to watch nature in action.